Laurence Sterling – Vineyard Operations Director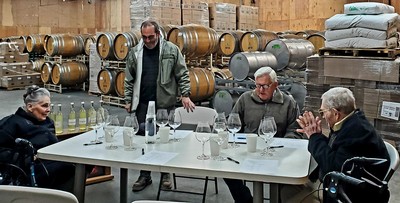 Laurence Sterling is Director of Operations at Iron Horse. He has overseen the replanting of 82 acres on the estate. This eight year undertaking has enhanced the quality of Iron Horse wines, creating a new generation of small block, single clone Chardonnays and Pinot Noirs. He secured the estate's water future by partnering with the town of Forestville to recharge our reservoir with high quality treated water. And brought the vineyards into complaince with certified sustainablity.
Laurence grew up in Paris, and then attended Rugby School, one of England's oldest and most prestigious "public" schools. He attended Georgetown University's School of Foreign Service in Washington, D.C., and the Fordham University School of Law, becoming a corporate lawyer in Los Angeles, specializing in mergers and acquisitions.
Since joining the winery in 1990, he has served as a director of The Wine Institute and chaired many of its sub-committees. He was appointed to the U.S. Commerce Department's Industry Sector Advisory Council for Consumer Goods. Governor Gray Davis named him to the California Recreational Trails Committee. He served as President of the Board of the Redwood Empire Food Bank.
Laurence, his wife, Terry, and their children live on the property in the home they built overlooking the vineyards.